This post has been compensated by Collective Bias, Inc. and AcneFree. All opinions are mine alone. #AcneFreeLife #AcneFreeSummer #CollectiveBias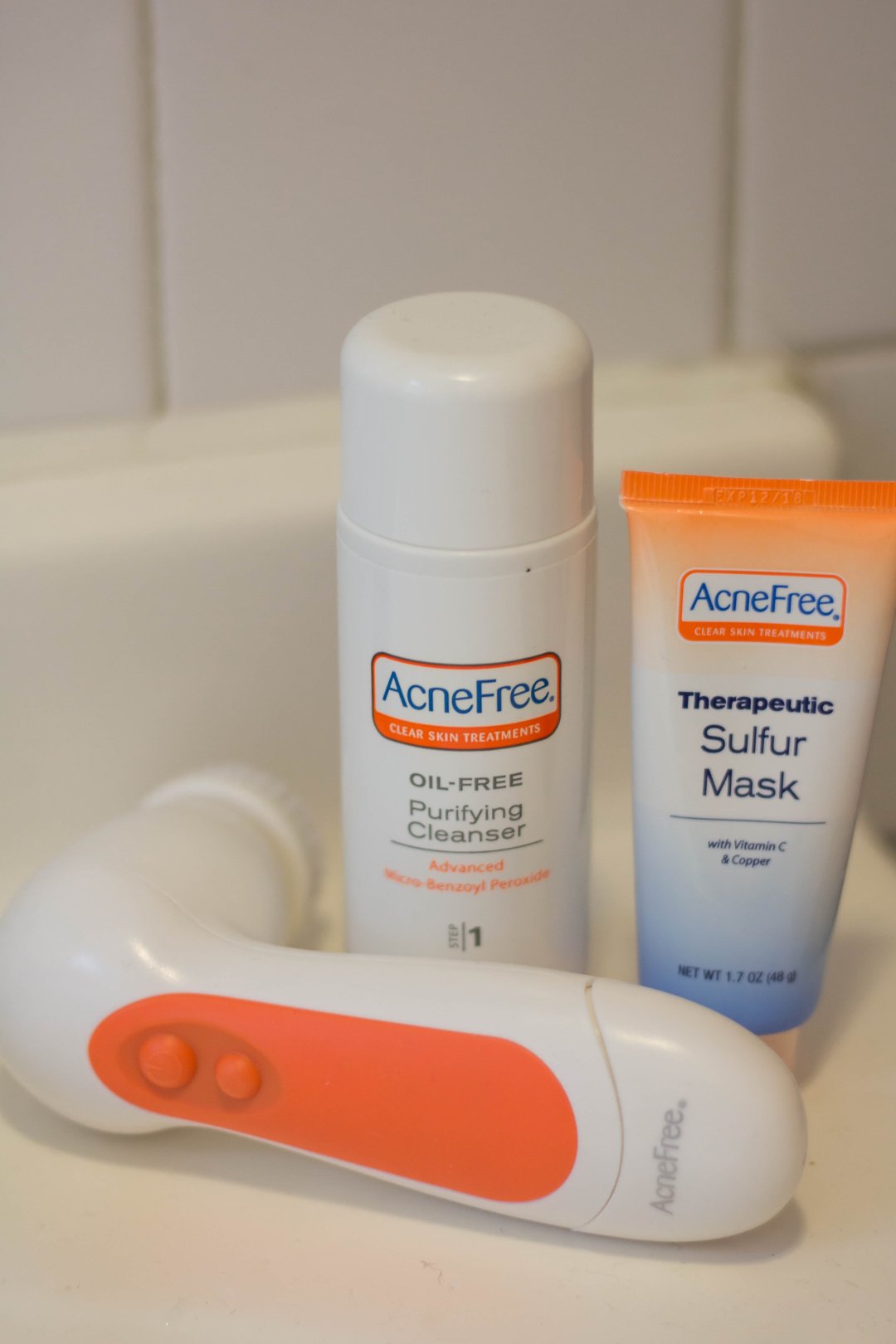 Click the products in the image above to shop all the products I bought!
Summer is the time of year when your skin can be most vulnerable.  You're out in the sun, you're wearing sunscreen, you're eating fried food (well, at least I am).  For some reason it seems that your skin is at an extra risk during the summer, and your skin can become acne-prone.  I don't know about you but acne is not an option for me, which is why I love to use the AcneFree Cleansing Duo and AcneFree Therapeutic Sulfur Mask.  I picked up my AcneFree products at Walgreens and got down to cleansing my face right up!
You can get in on the AcneFree action this summer too!  Take the #AcneFreeChallenge and see visible results in a few as 3 days! AcneFree is launching a 4-week sweepstakes on August 14th, 2017. 3 Grand Prize Winners will win $1,000 spending money and AcneFree Supplies for a year. Additionally, AcneFree will give away 10 AcneFree® 24 Hour Acne Clearing Systems every week for 4 weeks.  No Purchase Necessary. To enter, simply enter your name and email address at here. Use the form to follow on Instagram and Facebook to earn extra entries. For more information full rules, log on here.  See how others enjoy the benefit of #AcneFree skin here!
The AcneFree Cleansing Duo is such a great every day way to wash your face, and it's so easy!  I even took it on vacation with me last week, and it was great to end my day with such a cleaning skincare routine.  I wash my face in the evening after I shower because it makes my skin feel cleaner and it's a great way to wind down the day.  The duo includes the AcneFree® Oil-Free Purifying Cleanser and AcneFree® Purifying Facial Cleansing Brush, which helps clear blackheads and acne breakouts and gently deep clean pores.
The AcneFree® Purifying Facial Cleansing Brush features a two-speed soft brush to gently exfoliate the face and remove dirt and oil. Gentle enough for daily use, the AcneFree® Deep Cleansing Duo helps to wash away dirt and impurities while also minimizing the appearance of pores.  I use it once a day because I have sensitive skin, but you can use it twice a day as directed if you prefer!  Recommended use for approximately 60 seconds over your forehead, nose, chin, and cheeks.  Clean the brush head and pat dry.
The other product I'm using from AcneFree during the summer is the AcneFree Therapeutic Sulfur Mask. The AcneFree Sulfur Mask is a deep penetrating pore therapy to help soothe acne-inflamed skin and absorb excess oil. The therapeutic formula features Sulfur, a natural and effective acne treatment ingredient. Vitamin C, Copper, Zinc and Meadowsweet help to minimize the appearance of pores, and refine skin tone and texture. The AcneFree Therapeutic Sulfur Mask leaves skin feeling refreshed with a healthy glow.
DIRECTIONS FOR USE: Massage until mask turns blue (3 min.), leave on for additional 10 minutes. Rinse well. Use 2-3 times a week.
Personally I love face masks because they make your skin feel great afterwards, and this mask is no exception!  I've used it three times already and you can really feel how the sulfur digs deep into your skin and cleans out those pores.  In the evenings I wash my face with the Cleansing Duo, then use the Sulfur Mask for a deep, relaxing facial cleanse.  I use the Cleansing Duo nightly but the Sulfur Mask two or three times a week.  Using both of these products for my nightly skincare routine has helped to keep my skin clean, smooth, and fresh for those late summer adventures!
Need a great summer skincare routine that will follow you into fall?  Don't forget to enter the here to win $1,000 spending money and AcneFree Supplies for a year OR AcneFree® 24 Hour Acne Clearing Systems every week for 4 weeks!
This post has been compensated by Collective Bias, Inc. and AcneFree. All opinions are mine alone. #AcneFreeLife #AcneFreeSummer #CollectiveBias
SaveSave
SaveSave
SaveSave
SaveSave
SaveSave
SaveSave